Prior Authorization Service Solution
Fast-PASS ePA®
Automate Prior Authorization
Instant Prior Authorization
Streamline Prior Authorization with Fast-PASS
Simplify and Automate your Prior Authorization Process
Our technology solutions expedite high-quality patient outcomes, eliminate unnecessary medical care, and ultimately reduce total cost of care.
Prior Authorization houses a suite of capabilities including:
EHR and API Connectivity
Real-time Decisions in over 50% of Submissions
Case Creation Validation
Case Status Updates
Streamlined supporting Documents
Transfers
pVerify's Fast-PASS Prior Authorization houses a suite of capabilities that simplify and automate the prior authorization process. These capabilities include connectivity, real-time decisions in over 50% of submissions, case validation, status updates, and streamlined supporting documents transfer.
The new pVerify Fast-PASS ePA® technology directly connects to Payers and UMOs, leveraging AI, in coordination with curated historical clinical data to reduce administrative burden and accelerate speed to care. This process improves provider experience while enhancing clinical efficacy, connecting provider organizations to major payers via API to automate and simplify submitting and tracking requests for prior authorization. Our solution streamlines operations within a single easy-to-use application via secure portal or API. Provider costs are reduced, and decisions are communicated in real time, reducing delays.
Easy API converts data to/from EDI 278 format
Prior Authorization Solutions
Automated Case Creation and Case Submission
Real-time touchless case approvals when applicable

Simplified submission of additional clinical information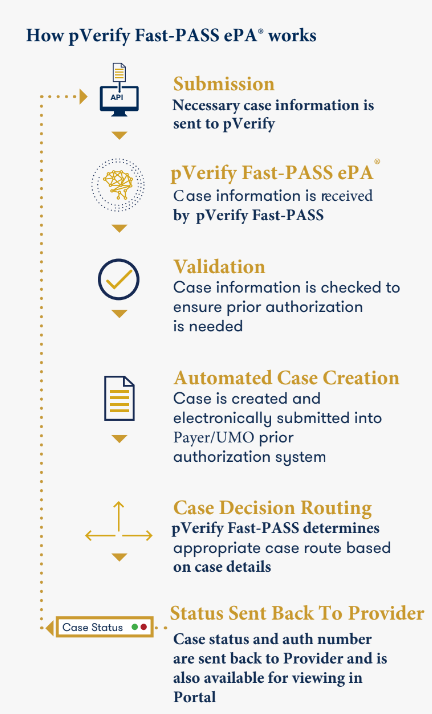 More pVerify Solutions
Our automated, date-of-service patient insurance verification brings unprecedented efficiency to your front-office workflow. Coupled our Healthcare Insurance Discovery Solution with our Patient Estimator and hands-free Patient Payment, our Solutions can significantly reduce patient debt and improve front-office collections.

Advanced Eligibility
Verify a patient ahead of time or during their procedure with pVerify's All Payer Advanced Eligibility Solution in Instant, Batch, or API Eligibility, in real-time with accuracy down to the service received.

Prevent A/R by detecting existing insurance for self-pay and unconfirmed coverage with a patient's name and date of birth. 

Healthcare APIs
The Industry service leader in Realtime Healthcare APIs for Eligibility, Claim Status, & DME Solutions.